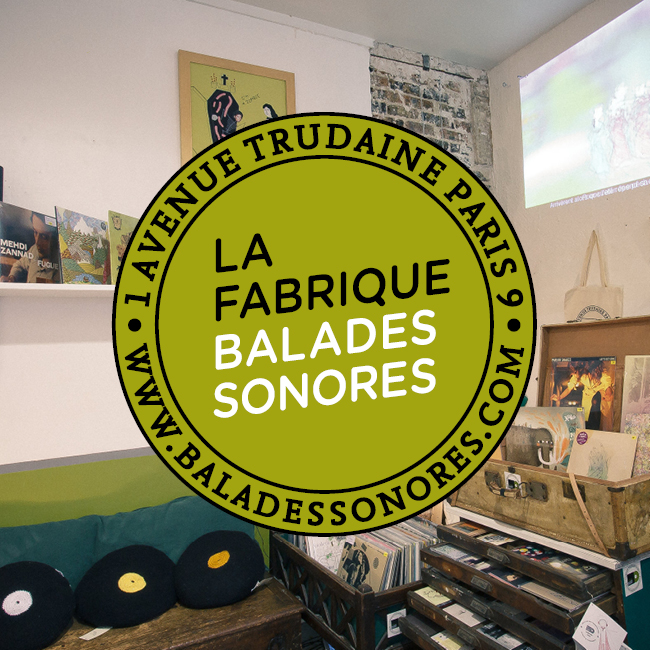 BALADES SONORES
Toma In February 2012, Les Boutiques Sonores recovers a beauty and adopts a surname more adapted to their versatility. : BALADES SONORES Equipped with a telescope and a map without fixed landmarks, the collective Balades Sonores follows a steep route, that which leads to the liberation of music, by researching and proposing alternative solutions to independent labels, to self-produced artists and to the public. They offer an arsenal of tools developed with love and all-out, a network of promotion, events, a label, a system of diffusion, stands and hence a place ... In a context where access to music becomes simple as a click, the audience zaps from one title to another. To help artists emerge in these circumstances and to accompany the music lover in his search for new sounds atypical and quality, BALADES SONORES proposes to play a role of pioneer, scout alternative music. We love curiosity, research and innovative works.
En février 2012, Les Boutiques Sonores se refont une beauté et adoptent un patronyme plus adapté à leur polyvalence: BALADES SONORES.

Équipé d'une longue-vue et d'une carte sans repères fixes, le collectif Balades Sonores suit un itinéraire escarpé, celui qui mène à l'affranchissement de la musique, en recherchant et proposant des solutions alternatives aux labels indépendants, aux artistes autoproduits et au public.

BALADES SONORES offre un arsenal d'outils développés avec amour et tout azimut: un réseau de promotion, de l'événementiel, un label, un système de diffusion, des stands et dorénavant un lieu...

Dans un contexte où l'accès à la musique devient simple comme un clic, le public zappe d'un titre à l'autre. Afin d'aider les artistes à émerger dans ces circonstances et d'accompagner le mélomane dans sa recherche de nouveaux sons atypiques et de qualité, BALADES SONORES propose de jouer un rôle de défricheur, d'éclaireur en matière de musiques alternatives. Nous aimons la curiosité, la recherche et les œuvres innovantes.

https://www.baladessonores.com