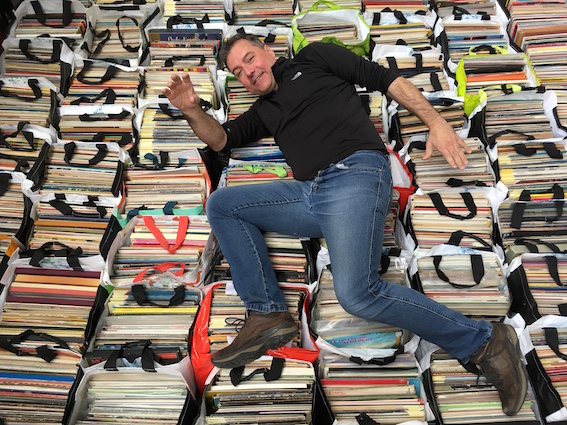 L AROME PRODUCTIONS
David David Jalloux has been involved in his first record fair since he was a teenager at the age of 16 as an exhibitor. Student, he mounted his program oriented Jazz and Funk on Radio Campus Grenoble, region from which he originated. Since then, he has continued to evolve to the point of turning his passion into full-time activity, and has been working as a record store for over 20 years. In 2001, he produced his label L Arome Productions and re-edited the albums of Vincent Geminiani, Isabelle Aubret, Marcia Maria, Baroque Jazz Trio, Brazilissimo compilation, and especially the mythical Ethiopiques Series, Alèmayèhu Eshèté, Mahmoud Ahmed, Wallias Band around the golden age of Ethiopian music. He produced the Akalé Wubé group in 2010, in the tradition of the Ethio-Jazz style. David has the particularity of finding Dead Stocks of vinyls, in all styles, which have made his reputation. We used to call him the 2 Millions Records Man...
Diggeur sur les brocantes depuis son adolescence , David Jalloux participe à son 1er Salon du disque à l'âge de 16 ans en tant qu'exposant. Etudiant, il monte son émission orientée Jazz et Funk sur Radio Campus Grenoble, région dont il est originaire.
Depuis il n'a cessé d'évoluer au point de transformer sa passion en activité à temps plein, il exerce ce métier de disquaire depuis plus de 20 ans.
En 2001, il monte son Label l'Arôme Productions et réédite les albums de Vincent Geminiani, Isabelle Aubret, Marcia Maria, Baroque Jazz Trio, la compilation Brazilissimo, et surtout la mythique Série Ethiopiques, Alèmayèhu Eshèté, Mahmoud Ahmed, Wallias Band, axée autours de l'âge d'or de la musique éthiopienne. Il produit le groupe Akalé Wubé en 2010, dans la tradition du style Ethio-Jazz.
David a la particularité de trouver des Dead Stocks de vinyls, dans tous les styles, qui ont fait sa réputation dans le milieu… On le surnomme l'homme aux 2 millions de disques...

https://www.marketplacepulse.com/ebay/france/lpa002