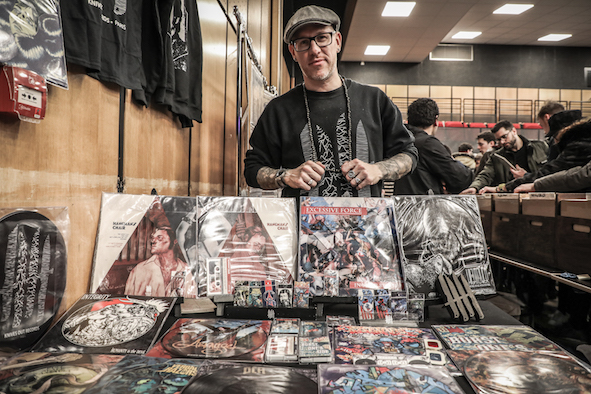 KNIVES OUT RECORDS
Tonr Independent label founded by Tonr, passionate autodidact and actor of the Metal Hardcore hexagonal scene since the mid-90s (Unity broadcast on Radio 666 - Caen 99.1 Mhz, singer of the Band Providence). Knives Out Records aims to be a label with high added value, both qualitative and artistic, specializing mainly in high-end picture disc vinyl, in a musical direction very specific and mostly "saturated", bringing in the grooves of Indie Rock, Punk Rock, Hardcore Stoner but also US Hip Hop.
Label indépendant fondé par Tonr, autodidacte passionné et acteur de la scène Metal Hardcore hexagonale depuis le milieu des années 90 (émission Unity sur Radio 666 - Caen 99.1 Mhz, chanteur du groupe Providence).
Knives Out Records se veut être label à haute valeur ajoutée qualitative et artistique spécialisé principalement dans les vinyles picture disc haut de gamme; empruntant une direction musicale bien précise et majoritairement "saturée", l'amenant dans les sillons de l'Indie Rock, du Punk Rock, du Hardcore au Stoner mais également au Hip Hop US.
http://www.knivesoutrecords.com