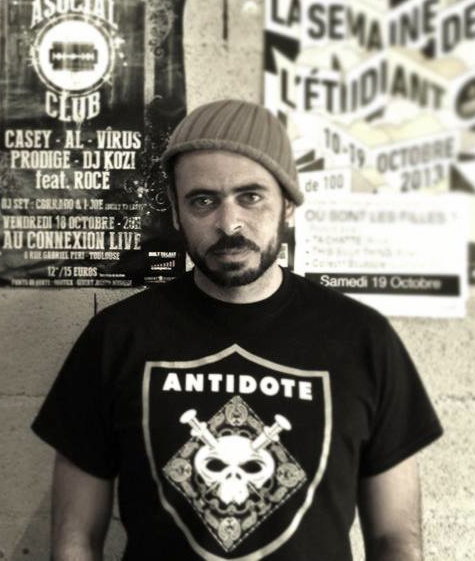 ROCE MUSIC
Born in Algeria in 1977, Rocé arrived in France at the age of 4. In the early nineties, he earned his spurs in rap, driven by Hip Hop's contestation and creativity. He is one of the rare rappers to have had an immediate unanimous acclaim. His first title, Ma Face En Première Page (« My Face On the Front Page"), which came out as an LP in 1997 (Espionnage) has become a collector. This experience gave him the respect of his peers. Rocé then contributed to numerous projects, being invited on many French rap albums, and releasing 2 more maxi vinyls. In 2002, his first album, Top Départ ("Ready ? – Set ? – Go !"), came out. It had a real success, was appreciated by its listeners for the richness and the complexity of its texts, and the spontaneity of the interpretation. Rocé is esteemed by the rap scene just as well as he is by the jazz or the electro scenes. After 4 years of a voluntary silence, here comes his new album, Identité En Crescendo ("Crescendo Identity"). "Call it rap, slam, punk, it's not my business any more." That's how Rocé describes the music he defends on stage with a DJ and a bass player. Rap, jazz, free, Rocé deceives all musical compartmentalizations. His vision of the world also attacks all ethnic and cultural divisions : "with my wog and Wandering Jew and Muslim face ; with my suspicious identity card, my black student card, my white rapper identity". Through his music and his texts, Rocé dares to bear the complexity of his individual. A Muslim mother / a Jewish father. An Algerian mother / a Russian father. His mother's skin is black / his father's white. Argentinean on the papers until his majority. And Rocé, as a free man, is an artist. A rapper does not reduce himself to such an equation, though. The "Fouliens" see in it the source of an inexhaustible instability, fearful in front of such richness, Rocé found in it the strength of logic rather than the certainty the equation. Of course, Rocé comes from that complexity, and that's a lot. But Rocé escapes, looks far out, raps for the horizon, scrutinizes the world he changes, the eyes pointing at the next day, already nostalgic of what he has not accomplished yet. He is not the heir of anything, he does not pretend to suffer from anything. He doesn't cares for any form of legitimacy : he works on his freedom. Rocé is on humanity's side, student of all and everything. If one must remember where he comes from, it's to understand his own complexity. No clichés, no images. No attitudes : a dynamic. The periphery and the center that create the third genre. Rocé does not add up the identity papers, he draws a world map, from the multiple he goes towards the unique, from the one to the infinite, embracing with his sharp eyes the determination, the mischief, the accuracy in favor of justice. Since papers aren't territory, one forgets very fast Rocé's Argentinean identity card, his freckles, his green eyes, his frizzy hair, his awkward stretch between Paris and the suburbs, his pains and their prisons. Rocé, his words, more loyal than faithful, courageous within doubt, knows when humanity suffers, doesn't look aside and pierces shells with hope. He doesn't lie to himself : don't count on him to lie to you.
Né en Algérie en 1977, Rocé est arrivé en France à l'âge de 4 ans. Au début des années 90, il a gagné ses galons dans le rap, poussé par la contestation et la créativité du Hip Hop. Il est l'un des rares rappeurs à avoir reçu un accueil unanime. Son premier titre, Ma Face En Première Page, sorti en 1997 (Espionnage) est devenu un collector. Cette expérience lui a donné le respect de ses pairs. Rocé a ensuite contribué à de nombreux projets, invité de nombreux albums de rap français, et sorti 2 maxi vinyles supplémentaires. En 2002, son premier album, Top Départ ("Ready? - Set? - Go!"), Est sorti. Il a eu un réel succès, a été apprécié par ses auditeurs pour la richesse et la complexité de ses textes, et la spontanéité de l'interprétation. Rocé est apprécié par la scène Rap aussi bien que par le Jazz ou l'Electro.

Après 4 ans de silence volontaire, voici son nouvel album, Identité En Crescendo ("Crescendo Identity").

"Call it rap, slam, punk, ce n'est plus mon affaire". C'est ainsi que Rocé décrit la musique qu'il défend sur scène avec un DJ et un bassiste. Rap, jazz, gratuit, Rocé séduit toutes les compartimentalisations musicales. Sa vision du monde s'attaque également à toutes les divisions ethniques et culturelles: "avec mon wog et mon Juif Errant et mon visage musulman; avec ma carte d'identité suspecte, ma carte d'étudiant noire, mon identité de rappeur blanc ".

A travers sa musique et ses textes, Rocé ose supporter la complexité de son individu.

Une mère musulmane / un père juif. Une mère algérienne / un père russe. La peau de sa mère est noire / le blanc de son père. Argentin sur les papiers jusqu'à sa majorité. Et Rocé, en tant qu'homme libre, est un artiste. Un rappeur ne se réduit cependant pas à une telle équation. Les «Fouliens» y voient la source d'une instabilité inépuisable, craintive devant une telle richesse, Rocé y trouve la force de la logique plutôt que la certitude de l'équation. Bien sûr, Rocé vient de cette complexité, et c'est beaucoup. Mais Rocé s'échappe, regarde au loin, rappe pour l'horizon, scrute le monde qu'il change, les yeux braqués sur le lendemain, déjà nostalgique de ce qu'il n'a pas encore accompli. Il n'est l'héritier de rien, il ne prétend pas souffrir de quoi que ce soit. Il ne se soucie d'aucune forme de légitimité: il travaille sur sa liberté.

Rocé est du côté de l'humanité, étudiant de tout et de tout. S'il faut se souvenir d'où il vient, c'est pour comprendre sa propre complexité. Pas de clichés, pas d'images. Pas d'attitudes: une dynamique. La périphérie et le centre qui créent le troisième genre. Rocé n'ajoute pas les papiers d'identité, il dessine une carte du monde, du multiple il va vers l'unique, de l'un à l'infini, embrassant de ses yeux acérés la détermination, le mal, l'exactitude en faveur de la justice. Parce que les papiers ne sont pas des territoires, on oublie très vite la carte d'identité argentine de Rocé, ses taches de rousseur, ses yeux verts, ses cheveux crépus, son étreinte entre Paris et la banlieue, ses douleurs et ses prisons.

Rocé, ses paroles, plus loyales que fidèles, courageuses dans le doute, savent quand l'humanité souffre, ne regarde pas de côté et perce les coquilles avec espoir. Il ne ment pas à lui-même: ne comptez pas sur lui pour vous mentir.

https://horscadres.net/
http://www.nova.fr/poetique-politique-une-histoire-des-chansons-de-luttes-francophones-avec-roce