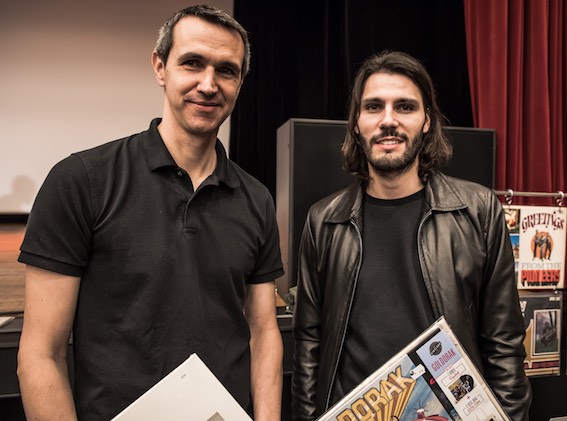 DR GROOV
Benoit DR.GROOV is the first box dedicated to music. Once a month, the subscriber receives many items ready to arouse his curiosity. Exclusive vinyls that can be autographed and, or colored, usually new releases, will fill the libraries in the same way as the selection of unavoidable books and comics on the music chosen finely by the team. Fun and original products (tote bags, merchandising, etc.) as well as access and discounts to privileged services complete the list of small pleasures that creep into the box. Be part of a community and benefit from all its advantages Subscribers have the opportunity to meet artists during showcases, private listening sessions or questions and answers. At a time when digital is important in homes, it is important to maintain a link with the artist by offering personalized physical content and meetings. DR.GROOV is much more than a box. Each month, it allows the discovery of talented musicians from different horizons (Pop, Rock, Electro, Urban) and fascinating cultures. By means of books and access to various services, it also makes it possible to better apprehend the current musical world and to have a head start on that of tomorrow. A unique offer essential for music lovers Whether it s giving or having fun, the rich content of the box is always higher than the price the subscriber would pay retail, a boon for any music lover or collector eager to benefit from rare items and unusual at a favorable rate.
DR.GROOV' est la première box dédiée à la musique. À raison d'une fois par mois, l'abonné reçoit de nombreux objets prêts à éveiller sa curiosité. Les vinyles exclusifs pouvant être dédicacés et/ou colorés, généralement des nouveautés, rempliront les bibliothèques de la même façon que la sélection de livres et de BD incontournables sur la musique choisie finement par l'équipe. Des produits ludiques et originaux (tote bags, merchandising, etc.) ainsi que des accès et des réductions à des services privilégiés complètent la liste des petits bonheurs qui se glissent dans la box.
Faire partie d'une communauté et bénéficier de tous ses avantages
Les abonnés ont l'opportunité de rencontrer les artistes à l'occasion de showcases, de sessions d'écoute privées ou encore de questions / réponses. À l'heure où le digital prend une place importante dans les foyers, il est important de conserver un lien avec l'artiste en proposant du contenu physique personnalisé et des rencontres. DR.GROOV' est bien plus qu'une box. Chaque mois, elle permet la découverte de musiciens talentueux venus d'horizons différents (pop, rock, électro, urbain) et de cultures fascinantes. Au moyen de livres et d'accès à différents services, elle permet également de mieux appréhender le monde musical actuel et d'avoir une longueur d'avance sur celui de demain.
Une offre unique indispensable pour les amoureux de musique
Qu'il s'agisse d'offrir ou de se faire plaisir, le contenu riche de la box est toujours supérieur au prix auquel paierait l'abonné au détail, une aubaine pour tout amateur de musique ou collectionneur désireux de bénéficier d'objets rares et insolites à un tarif avantageux.
https://www.drgroov.com/